Burials in Xuan Loc diocese were to 'apologize to unborn babies for the pain and suffering they endured'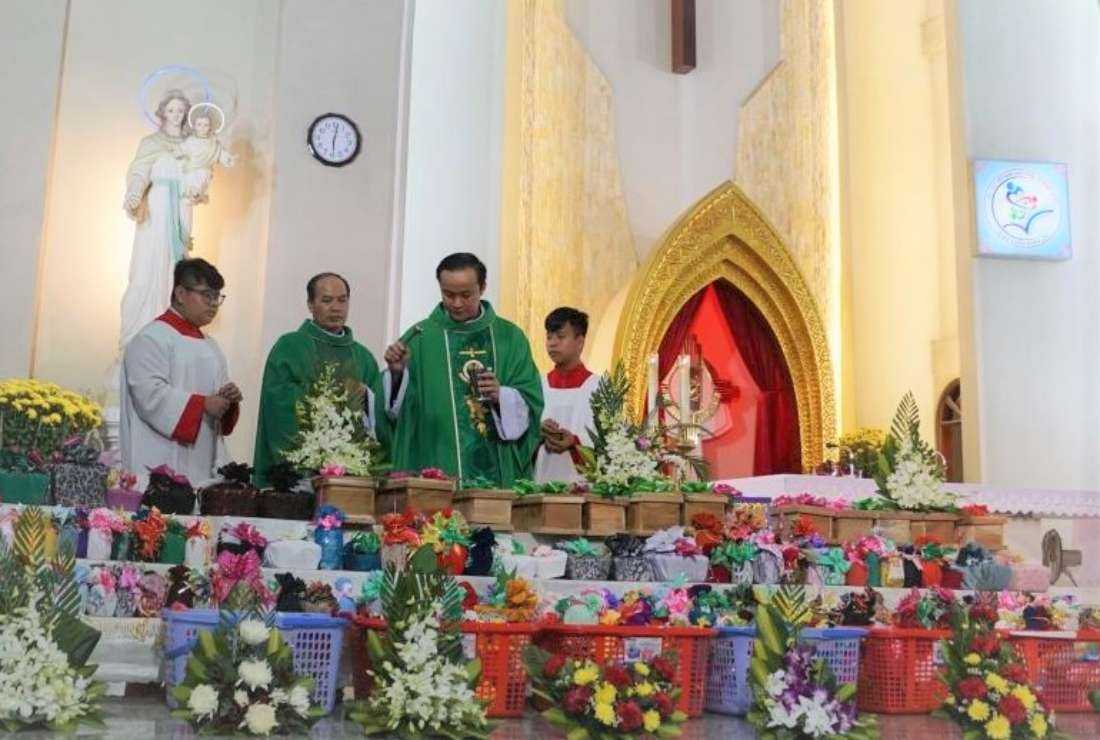 Fathers Joseph Nguyen Van Tich (left) and Vincent Nguyen Minh Tien bless dead fetuses at Bac Hai Church before burying them on Jan. 29. (Photo: giaophanxuanloc.net)
Published: February 02, 2023 05:28 AM GMT
A diocesan pro-life panel in southern Vietnam celebrated a special requiem Mass and burial for 700 aborted fetuses on Jan. 29 where participants dedicated themselves to raising awareness of human dignity in the communist nation where students lead the pack in seeking abortions.
Led by Xuan Loc diocese's pro-life committee, the special Mass at Bac Hai Church in Bien Hoa City, in the southeast region of Vietnam, was attended by hundreds of pro-life volunteers from different faiths. The cemetery is home to over 62,000 unborn babies.
Before the burial, the dead fetuses were cleaned with alcohol, wrapped in white cloth, given names, decorated with flowers, and placed in the church for people to pray for.
"Burying dead fetuses is to apologize to unborn babies for the pain and suffering we make them endure … and to pray for other babies to be safe," Father Joseph Nguyen Van Tich, one of two priests who concelebrated the Mass said.
The other priest was Father Vincent Nguyen Minh Tien.
Although people took ten days off to celebrate the Tet (Lunar New Year) festival in January, early terminations did not subside and volunteers still collected 700 dead fetuses from local clinics and hospitals, Father Tich said.
The southeast Asian nation with a population of 99.4 million records 300,000 terminations per year, mainly among girls aged 15-19. Of them, 60-70 percent are students, according to studies.
Our volunteers collect 700-1,500 dead fetuses, including stillbirths, each month, said Father Tich, who started pro-life activities in Vietnam in 2011.
The priest said the diocesan panel has rescued hundreds of babies from abortion and provided safe accommodation for 2,000 single mothers abandoned by their boyfriends and relatives for refusing to terminate their children.
In Vietnam, abortion in the early period of pregnancy has been recognized as a women's right under a 1989 law on people's health.
More than 14 million people in Vietnam — the third most populous nation in Southeast Asia — are aged between 10 and 19, which is 14.4 percent of its population.
A study done for the UN Sustainable Development Goals found that there was one abortion for every 1,000 women among 15-19 years old in Vietnam in 2021.
Father Tich said that the diocesan pro-life committee imparts emotional and spiritual support for those involved in abortion. He, however, noted that it was sad that parents pay for medical workers to terminate babies.
Aborting pregnancies is a vicious crime against humanity, the priest observed during the burial.
Unequal Christians of Asian Churches is a new series of features aimed to help us see prejudice and bias that are at work in our Church. They also help us see the struggles of Catholics to live out their faith.
Such features come to you for FREE, but it cost us to produce them.