BY CYNTHIA JONES-NOSACEK, M.D.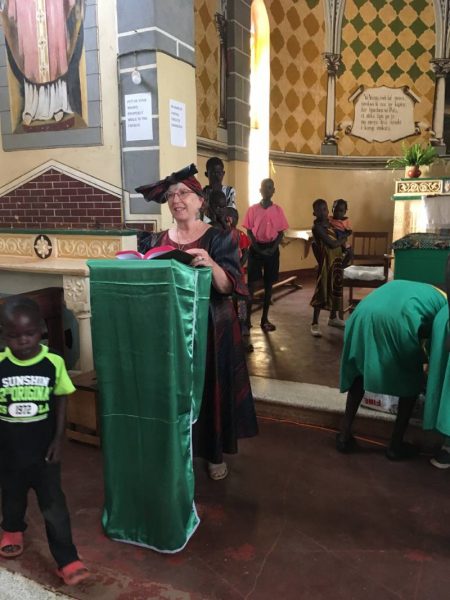 Dr. Cynthia Jones-Nosacek reading during Mass in Acoli. She is wearing a kitang (a traditional dress) that the community made for her as a gift.
Uganda is called the Pearl of Africa. The terrain varies from snowcapped mountains to rain forests to dry savannas, all in a country the size of Oregon. Home to the source of the Nile River, it boasts more biodiversity than all of the United States and Canada combined.
With support from the Catholic Medical Association, I returned to this beautiful country in January 2022 for my fifth mission trip to the area. My first visit was in 2018, when I traveled to Padibe, a small town in the north about 20 miles from the South Sudan border. This area is home to the Acoli people, one of many Ugandan tribes with 40 different languages and English as a common language.
The people of Uganda are welcoming and friendly, always asking first how the other is doing, how s/he slept, how the family is doing, even if a complete stranger, before stating their business.
As with my previous visits, part of the reason for my travel was to provide medical support to the S.S. Peter and Paul Medical Clinic — a parish clinic that members of my Milwaukee parish helped fund as a way to assist the Acoli people rebuild after the civil war ended.
The Ramifications of the Pandemic
COVID has hit Uganda especially hard. It is said that it will take the country 10 years to recover. For those who lost jobs, there is no safety net, no unemployment insurance. The best many Ugandans could do was to return to their homes and try to raise what crops they could to feed their families.
There has been little to no in-person learning in the primary and secondary schools for almost two years; schools just reopened this January after being shut down since February 2020. While middle- and upper-income students were able to attend school remotely, many of the poor do not even have access to radios, much less computers.
In the healthcare system, 70% of facilities do not have supplemental oxygen. Those that do sometimes do not have enough. During the Delta surge, 30 patients suffocated to death when one hospital ran out of oxygen. While the government is investing in increasing oxygen supplies, progress is slow. The clinic at which I served has not received government payments in more than seven months. When the clinic does receive government funds, it is paid only a fraction of what is owed. Compounding the problem are the supply chain issues with medications and lab tests.
At the federal level, 49% of the national budget goes to the army and only 6% for healthcare.
Among children, malaria remains a leading cause of death. While I was there, the 5-year-old nephew of our driver died of malaria. When the mothers of Uganda and I talk about our children, they always tell me how many living children they have and then add the number of those they have lost.
Deacon Gary Nosacek doing one of 65 baptisms during the Holy Sacrifice of the Mass in a community that hasn't had access to the sacraments for almost two years.
Because of these hardships, the faith in Uganda is strong. On Sundays, the churches are packed with people standing outside the doors to listen in. The Holy Sacrifice of the Mass can last up to two hours with lots of singing and dancing. If there is no physical church structure, Mass is celebrated under the trees.
Owing to COVID restrictions that shut down churches and the rainy season that rendered the roads useless, some of the more distant communities within the parish boundaries have gone for over a year without the sacraments. At one of these communities, my husband, a deacon, baptized 65 people. Even though he speaks little Acoli, he is able to assist the priest and follow along. As he says, "The Mass is the Mass."
A Need for NFP
The second reason for my trip was to assess the need for natural family planning services.
What I discovered during this trip is that while the harvest is plenty, the workers are few.
Couples are interested in learning NFP. One clinic told me that staff is always running out of Cycle Beads (called Moon Beads there), a tool of the Standard Days Method. A nun who is an obstetrician/gynecologist told me that the only way she can teach mucus methods is to show couples an instructional video. She was very excited at the possibility of learning to teach her patients directly. Even the government hospital administrator said that there was a demand for natural methods but no money and no one to teach them.
The problem, of course, is money. For artificial contraception, there is money galore. The well-funded government clinics that specifically provide contraception in rural areas are often the nicest ones. In Padibe, a two-day seminar was held to discuss how to talk to women to convince them to have fewer children. On television, the government pushes artificial methods as "modern," putting NFP in the same category as using herbs, abstinence, and withdrawal. Catholic clinics and hospitals lose part of their government funding because they refuse to give out artificial contraceptives.
While there may not be government funding to pay the salaries of midwives — who reduce maternal mortality and morbidity — or money for medications to treat diseases such as malaria, there always seems to be money for artificial contraception.
In my assessment, I found that couples in Uganda want 4-5 children. In fact, Ugandans are amazed that there are couples in the United States who do not want any children, despite living in such a rich country. However, Ugandans do want a way to space their pregnancies; this is the most common reason given for wanting family planning. The Catholic Church in Uganda wants to help them.
In August, my husband and I will return to assist Dr. Mary Schneider, director of the Marquette Institute of Natural Family Planning, in training as many as 20 physicians, nurses, and midwives from three different dioceses on the method and medical applications of the Marquette Model of NFP.
If you are interested in learning more about Dr. Jones-Nosacek's work in Padibe or supporting it, please email her at nosacek@msn.com.
For more information about the Marquette Institute of Natural Family Planning, its research and outreach to Uganda, including support, please email Dr. Mary Schneider at mary.schneider@marquette.edu.
To learn more about CMA's Catholic Social Teaching on Justice in Medicine Committee, please email Dr. Fred Fakharzadeh at frederickfak@gmail.com.
Regarding CMA's Medical Missions Committee, please email Ellen Dailor at emdailor@gmail.com.
Lessons in Catholic Social Teaching
The most important thing I have learned is the value the Ugandan people give to relationships. When NGOs come, do a project, and leave, the people ask, "Why don't they like us anymore?" And most NGOs are so busy that they have no time to learn about the communities they seek to serve.
In Padibe, the saying is, "Munus (white people) don't walk" because the only white people most of them have seen are those that come in their SUVs, talk to those in charge, and leave. But it is in relationships that we see the face of Jesus in his people and they see His face in us. Along with the projects, relationships are investments in the future of each human being.
It is allowing people to try to help themselves first, which is the principal of subsidiarity, while coming alongside them in solidarity to provide the infrastructure and monetary support that they do not have. However, it is a fine balancing act to offer support and aid while at the same time avoid setting an expectation that someone else will come and solve their problems.
Ultimately, mission work is a time for learning and growth for us all. As I tell the people of Padibe, when I come, I learn too. I love singing and dancing with them. They even taught me the Opogo, "the graceful dance of the elderly women" as my Acoli dictionary calls it. I must be humble enough to know that I do not know everything, which leaves me open to the people of Padibe, their culture and their faith and willing to work with them as they try to improve the health of their community.
Dr. Cynthia Jones-Nosacek is the past president of the Milwaukee Guild (USA) and has been a long-time member of the Catholic Medical Association. She serves on the Catholic Social Teaching on Justice in Medicine and the Medical Missions Committees.